Powys Arts Strategy Consultation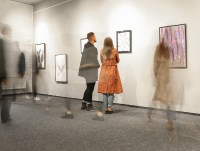 12 April 2023
A three-week consultation period on the development of a new Arts Strategy for Powys has begun, the county council has said.
Powys County Council's Arts Service currently supports various independent arts organisations to deliver arts provision across Powys. These arts organisations provide theatre, dance, music, visual and digital arts, performing arts festivals and crafts.
Richie Turner Associates has been commissioned by the council to undertake a review of current arts service provision in Powys, and work with council staff, Powys venues, the wider arts sector, and their communities to co-develop a new arts strategy and delivery plan.
Cllr James Gibson-Watt, Leader of the Council, said: "I encourage everyone to get involved with this process to have your say on what the new arts strategy could include, whether you are directly involved in the arts or not. I am looking forward to seeing this strategy develop following this consultation and how it will shape the future of the arts here in Powys."
You can respond to this consultation in a number of ways:
Attend one of the consultation meetings:
| Location | Date | Artists and Arts Organisations Meeting | Open Public Meeting |
| --- | --- | --- | --- |
| Brecon | Wednesday 19th April | 2:00pm - 4:00pm | 5.30pm - 7.30pm |
| Newtown | Thursday 20th April | 3.30pm - 5.30pm | 6:00pm - 8:00pm |
| Rhayader | Friday 21st April | 3:00pm - 5:00pm | 5.30pm - 7.30pm |
| Online | Saturday 22nd April | 10:00am - 12:00pm | 1.30pm-3.30pm |
Full details and information about this project (including accessible formats), and to register for an event above, please visit: https://richieturnerassociates.com/powys-arts-strategy/