Welsh Government funding to transform Ystradgynlais Library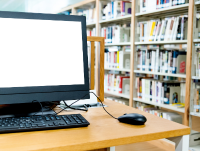 12 May 2023
A south Powys library is set to be transformed thanks to Welsh Government funding worth almost £270,000, the county council has said.
Ystradgynlais Library will be remodelled after Powys County Council was successful in securing £268,682 from the Welsh Government's Cultural Transformation Capital Programme.
The programme aims to enable public libraries, local museums and archive services to transform service delivery, modernise their facilities, create more sustainable models of delivery, enable joint service working and improve the offer to people and communities.
As part of the remodelling proposals, the council is looking to provide the following at Ystradgynlais Library:
Remote working facilities in confidential areas
Bookable meeting pods for face-to-face / digital appointments
'Zoom rooms' and digital connectivity learning spaces including gaming activities
A spotlight on local heritage, connecting with cultural collections and activities across Powys and Wales
Reading corners for mental health
Pop-up shop spaces for local producers to showcase skills
Improved disabled access, warm bank provision and learning activities for child to help support vulnerable people in the area
Comfortable social areas and flexible space for wide ranging activities and discussions
Development of garden for cultural activities and environmental learning
Upgraded building infrastructure for energy efficiency - solar panels with battery storage, LED lighting and improved insulation.
Cllr David Selby, Cabinet Member for a More Prosperous Powys, said: "I'm delighted that we have been able to secure this funding and I would like to thank the Welsh Government for their support.
"Ystradgynlais Library requires remodelling to meet growing community demands, with a greater emphasis on supported digital access from a trusted community location, reducing environmental impacts of the building and preventing unnecessary travel.
"The impact of the Covid-19 had made us consider what social space means and how public facilities and services may need to adapt in the future.
"With this scheme, the residents of Ystradgynlais will have a multi-purpose, flexible library space that is equipped with resources that are relevant to their community. We want to redevelop a library that puts current and future needs at its heart.
"This funding from the Welsh Government will help us achieve this vision for Ystradgynlais Library."