New council housing development official opened in Newtown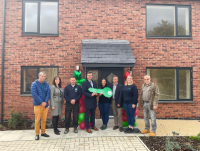 25 September 2023

A £3.5m housing development which has seen 18 homes built in Newtown has been officially opened.
The new development has been commissioned and completed by Powys County Council on the former Red Dragon public house and Maesyrhandir Youth Centre site in the town, include a range of two, three, four and five-bedroom homes. The development has two access points which are called Clos Y Ddraig Goch and Cwrt Y Dryw.
The Welsh Government provided £2.4m towards the project through its Innovative Housing Programme.
All the properties will be let on secure contracts, giving tenants a real opportunity to make the highly insulated and eco-friendly dwellings their 'forever homes'. Rents will be among the lowest in Powys, helping people to better manage the cost-of-living challenges many now face.
Guests were given a tour of the new development as part of the official opening, which took place on Wednesday, September 20. The guests at the official opening included representatives of Powys County Council and its Tenant Scrutiny Panel as well as Newtown and Llanllwchaiarn Town Council.
Cllr Matthew Dorrance, Deputy Leader and Cabinet Member for a Fairer Powys, said: "This is a fantastic development which is helping us provide much needed additional low-cost homes for Powys residents.
"I'm grateful to the Welsh Government for the funding provided and for the work by the council's Housing Development Team to deliver this high-quality project.
"Tackling the housing emergency in Powys is my top priority. This exciting development has provided highly insulated and eco-friendly homes for social rent which is allowing us to build a stronger, fairer, greener future for this community."
The highly insulated and eco-friendly dwellings includes one three-bed bungalow, 11 two-bed houses, three thee-bed houses, two four-bed houses and one five-bed house.
A 'fabric first' approach was taken as part of the build to ensure the homes are well insulated and used materials which have more environmentally friendly credentials than that offered by traditional forms of construction.
The dwellings have been built using timber frame, wood fibre insulation to the walls, brick outer skin and slate roofs. Heating and hot water will be provided through air source heat pumps, which is much better for the environment than gas heating.
To address the ecological issues as part of the development, a sustainable urban drainage system has been installed as well as a 'bat loft' for roosting bats, which are found at this location.
The homes, which are owned and managed by the council, are being allocated to tenants through 'Homes in Powys' - the one stop shop for all social housing in the county.
'Homes in Powys' allows anyone looking for genuinely affordable, secure home to make one application and then be considered by the council and eight housing associations for a new place in which to live. You can find out more about the Common Allocation Scheme and applying for social housing here: Apply for social housing