New Chief Executive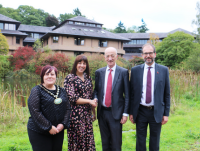 6 October 2023
Powys County Council's new Chief Executive Emma Palmer will officially take up her new role later this month, the county council has confirmed.
Emma, who was welcomed to the council by Leader Cllr James Gibson-Watt and Chair Cllr Beverly Baynham at a meeting of the full council yesterday (Thursday), will take up her role on Monday October 23.
An experienced senior local government officer and has worked in the public sector in Wales for more than 24-years.
For the past six years Emma has held executive positions at Powys County Council including Director of Corporate Services and Head of Transformation and Communications.
She succeeds Jack Straw who has been Interim Chief Executive at the council since April.
Caption: Emma Palmer is welcomed into post by Interim Chief Executive Jack Straw. Also pictured (L to R) Cllr Beverley Baynham and Cllr James Gibson-Watt.