Have your say on Day Opportunities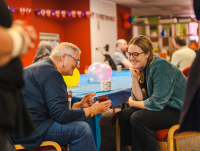 24 October 2023
A wide scale engagement exercise about the day opportunities available across Powys has begun, the county council has said.
There are currently a variety of day opportunities available in the county. These include:
Day centres for older people and adults with learning disabilities.
Independent organisations that provide activities for adults that have specific care and support needs, such as Dementia café's, Integrated sports groups, and wellbeing sessions.
Activities that are open to everybody that people can attend with or without support.
Cabinet Member for a Caring Powys, Cllr Sian Cox said: "We know that our wellbeing depends on a range of things, which vary a little from person to person, but fundamentally include feeling fulfilled, valued, part of something and in control of our lives. Day opportunities should contribute to these aspects of wellbeing.
"We know from conversations with many people across Powys that our day opportunities could contribute more meaningfully to fulfilled lives. This engagement project will explore, with you, how that might be done.
"I encourage everyone with an interest in day opportunities to take part. We want to understand what matters to people who use day services, have in the past or may in the future; what matters to carers, families, and communities; what works well already, and what 'better' might look like; as we work together towards equal, inclusive, and high-quality day opportunities across Powys."
For more details and to take part in the online engagement exercise, please visit: https://www.haveyoursaypowys.wales/day-opportunities-review
Paper copies of the survey are available to pick up from your local library and once complete you can hand it back to staff at a Powys Library, alternatively you can scan it and email it to haveyoursay@powys.gov.uk.
The closing date for responses is Monday 11 December 2023.
If you would prefer to provide your views on day opportunities in person, a number of engagement events will be held throughout the county during November 2023:
Date

Time

Venue

Monday 13 November

1.30pm - 2.30pm

Coed Isaf Day Centre, Welshpool

6.00pm -7.00pm

Ysgol y Trallwng, Welshpool

Tuesday 14 November

1.30pm - 2.30pm

The Court Day Centre, Llandrindod Wells

6.00pm - 7.00pm

Celf Centre, Llandrindod Wells

Wednesday 15 November

1.30pm - 2.30pm

Arosfa Day Centre, Brecon

6.00pm - 7.00pm

Y Gaer, Brecon

Thursday 16 November

1.30pm - 2.30pm

Maesywennol Day Centre, Llanidloes

Friday 17 November

1.30pm - 2.30pm

The Park Day Centre, at The Library, Newtown

Monday 20 November

1.30pm - 2.30pm

Canolfan Day Centre, Ystradgynlais

6.00pm - 7.00pm

The Library, Ystradgynlais

Tuesday 21 November

1.30pm - 2.30pm

Sylfaen Day Centre, Llanidloes

6.00pm - 7.00pm

Llanidloes High School

Wednesday 22 November

1.30pm - 2.30pm

Castell y Dail Day Centre, Newtown *This event has been cancelled*

6.00pm - 7.00pm

The Library, Newtown

Thursday 23 November

1.30pm - 2.30pm

Cyfle Newydd Day Centre, Machynlleth

6.00pm - 7.00pm

Ysgol Bro Hyddgen, Machynlleth

Friday 24 November

1.30pm - 2.30pm

Beacons Creative, Ffrwdgrech Estate, Brecon

Monday 27 November

1.30pm - 2.30pm

The Rhyd Day Centre, Brecon

Tuesday 28 November

1.30pm - 2.30pm

Mencap Day Centre, Llanfyllin

6.00pm - 7.00pm

The Library, Llanfyllin

Wednesday 29 November

6.00pm - 7.00pm

Builth Wells Primary

Thursday 30 November

1.30pm - 2.30pm

East Radnor Day Centre, Presteigne

6.00pm - 7.00pm

John Beddoes School, Presteigne

Friday 1 December

1.30pm - 2.30pm

Antur Gwy, Builth Wells

Monday 4 December

1.30pm - 2.30pm

The CRiC Centre, Crickhowell

6.00pm - 7.00pm

Crickhowell High School

Tuesday 5 December

1.30pm - 2.30pm

The Library, Hay on Wye

6.00pm - 7.00pm

Online (Contact thedayopportunitiesreview@powys.gov.uk for joining details)

Wednesday 6 December

1.30pm - 2.30pm

The Library, Llanfair Caereinion

6.00pm - 7.00pm

Ysgol Bro Caereinion (Primary Campus)

Thursday 7 December

1.30pm - 2.30pm

Online (Contact thedayopportunitesreview@powys.gov.uk for joining details)

6.00pm - 7.00pm

Hay on Wye CP School
You can also email comments to: thedayopportunitiesreview@powys.gov.uk