#ChangeTheStory for women and girls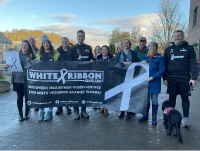 1 November 2023
Residents of Powys are being urged to join four walks in the county on Saturday 25 November to show their support for ending men's violence against women and girls.
They are being organised by the county council in support of the global White Ribbon movement, which this year is encouraging people to #ChangeTheStory on harmful gender-based behaviours and attitudes.
The walks are all due to start at 11am from the following venues:
Lakeside Boathouse, Llandrindod Wells
Dinas Road car park, Brecon
Welshpool Town Hall
Newtown Integrated Family Centre, Park Street
Refreshments will be available at the end of each town centre walk.
"Please come and join us at one of our four walks on Saturday 25 November and in making choices and taking actions to #ChangeTheStory for women and girls so, they may live free from the fear of violence," said Cllr Matthew Dorrance, Powys County Council's Deputy Leader and one of its White Ribbon Lead Ambassadors.
"I would also like to encourage men and boys in Powys to make the White Ribbon promise to never commit, excuse or remain silent about violence against women and girls, which can be done online on the White Ribbon UK website: https://www.whiteribbon.org.uk/promise?rq=promise ."
The walking routes on Google Maps:
There will also be a stand in Bear Lanes Shopping Centre in Newtown on Saturday 25 November, from 11am - 2pm, to raise awareness of the aims of the White Ribbon movement and Montgomeryshire Family Crisis Centre will be handing out free personal safety alarms, and advice and information.
Powys County Council is a White Ribbon accredited organisation which means it has made a commitment to ending violence against women in Powys communities, improving its own workplace culture and ensuring the safety of its female employees.
White Ribbon UK works to prevent violence against women and girls by encouraging men and boys to make changes to the way they act and behave: https://www.whiteribbon.org.uk/
This year it is highlighting that:
PICTURE: Last year's walk in Brecon