Preparations made ahead of Storm Ciarán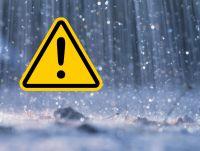 1 November 2023
In preparation for Storm Ciarán, Powys County Council is working together with partner agencies and local flood groups to ensure communities are prepared for the expected heavy and persistent rain.
Preparations are being made to help keep people and property safe. Teams are out checking flood defences are in good working order, clearing gulleys and ditches and operating temporary defences where needed to help reduce flood risk to communities.
"Together with our partners, our officers have been working hard to not only clear up from Storm Babet but also prepare for Storm Ciarán." Explains Cllr Jackie Charlton, Cabinet Member for a Greener Powys.
"Flood defences across the county are ready to be used and depots have supplies of sandbags ready to deploy, if needed. Flooding hotspots are being monitored and staff are engaging with local flood groups in to ensure that communities are as prepared as can be.
"We urge residents to stay safe and consider any steps they may need to take now to be prepared for the bad weather, to take extra care if you need to travel, and to always adhere to any warnings issued over the next few days."
For more information about preparing for, or dealing with flooding, please visit: Floods