What is involved in an assessment for adaptations or equipment?
You will be visited by an occupational therapist or care manager who will assess your needs and agree a plan of action with you. The occupational therapist may recommend minor or major adaptations to your home. Depending on who owns your home (you, the council, Housing Association, or a private landlord), the recommendations will be sent to the organisation or agent who can make the changes.
If major adaptations are needed in a privately-owned or privately rented home, you can apply for financial assistance. (Ask for the leaflet

Disabled Facilities Grant) [3MB]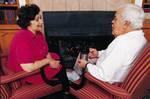 If you have problems walking, your GP may refer you for a mobility assessment, usually at a local outpatient clinic.
Borrowing Equipment
After the assessment, you may be lent some equipment to help you live independently or to be cared for in your own home. Social Services and the Local Health Board have a joint service and store. There is no charge for borrowing equipment.
Examples of equipment loaned include:
toilet frames/commodes
chair and bed raisers
grab rails
tap turners
bath boards and seats
hoists and slings
kettle tippers
transfer boards
Wheelchairs for long-term loan are supplied by the NHS through an Artificial Limb and Appliance Centre (ALAC). Your GP or occupational therapist can refer you.
Attendant-pushed wheelchairs and commodes are available for short term loan, (for example, for going on holiday), through the British Red Cross
Contacts
Email: assist@powys.gov.uk
Phone: 0345 602 7050
Address: Powys County Hall, Spa Road East, Llandrindod Wells, Powys, LD1 5LG
---