It's never too late to start! Baby's First Shapes Book Launched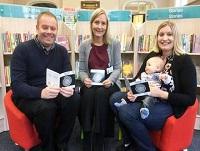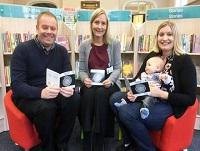 Four Powys libraries and the UK's largest reading charity BookTrust are offering new parents of babies aged 10 weeks and under a free Baby's First Shapes book when they are enrolled as a library member.
The initiative builds on the already popular BookStart scheme where health visitors give every child in Wales a pack of two books when they reach six months of age and then again at 27 months.
The launch of this first book is being piloted initially at four libraries in the county - Newtown, Llanidloes, Rhayader and Brecon.
Cllr Rachel Powell, Cabinet Member for Libraries, said: This little book with bold black and white shapes has been designed specifically for babies of this age in mind. It allows them to focus on a simple image whilst snuggled up close listening to their parent's voice.
"It's a lovely way to bond with your baby and even at this young age. Just looking at simple shapes and pictures can support brain development and is time well spent."
Leanne Jones and Lee Evans, who enrolled their baby son Charlie at their local library when he was six-weeks-old and received the Baby's First Shape book, said: "This is a great scheme and the beginning of Charlie's reading journey. Not only is reading with Charlie a special time for our family but it will help to develop his early language skills.
"We hope that by reading to Charlie and visiting our local library, he will develop a love of reading."