New bridge installed thanks to council investment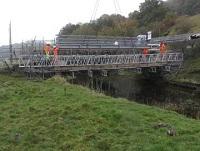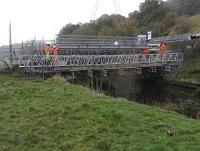 An old bridge near Llanbister has been replaced thanks to investment from Powys County Council.
The council has invested £150,000 replacing Bron yr Efail bridge after an assessment of the previous structure found that it could only cope with a maximum gross weight of three tonnes.
With no alternative access for the properties served by the bridge, a design was chosen which could be installed while a short road closure was in place.
Works to replace the bridge started earlier this month (October 16) when the road was closed so that old bridge deck could be demolished and for preparation works to take place ready for the new bridge.
The new bridge was supplied and installed by Retro Bridge Ltd on Thursday, October 19, who completed the installation in four hours. The new bridge which has capacity for all standard vehicles was opened to traffic on Friday, October 20.
A temporary footbridge was provided for the residents while the installation took place.
Cllr Liam Fitzpatrick, Cabinet Member for Highways, said: "I'm delighted that this new bridge has been installed in such a quick time. Our investment has provided a long-term access solution to a number of properties that need to use this bridge."
Cllr Rachel Powell, local member for Beguildy, said: "I'd like to thank the council for their investment in replacing Bron yr Efail bridge and for installing it in a short space of time. This investment is welcomed by the residents who need the bridge to access their properties."