Still time to sign up to school battery recycling challenge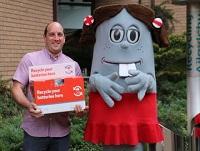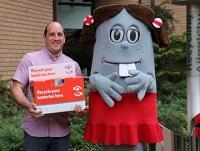 Schools in Powys still have time to sign up to a battery recycling competition and be in with a chance to win vouchers.
30 schools in the county have signed up to a free battery recycling competition that is being run by Powys County Council.
Now the council's Waste and Recycling Team are urging more schools to sign up to be in with a chance of winning vouchers.
The school which collects the most batteries per pupil could win a share of £500 worth of Amazon vouchers. The competition is being sponsored by the European Recycling Platform, the council's compliance scheme for waste electrical and electronic equipment and batteries.
Schools who sign up will be provided with a free battery box and will compete over the autumn term to collect as many domestic batteries as possible. This includes the standard AA and AAA nickel cadmium batteries, button cell batteries, power packs from tools and mobile phone and laptop batteries.
Cllr Phyl Davies, Cabinet Member for Waste and Recycling, said: "I'm delighted that so many of our schools have signed up to this fantastic competition but there is still plenty of time for more schools to get involved.
"Batteries are made from recyclable metals including lead, cadmium, zinc, lithium and mercury. Each battery collected by a school can be re-melted and used to make new batteries rather than going to landfill where they could cause soil and water pollution.
"By taking part, schools could win vouchers and they will also help the county meet recycling targets, cut landfill and carbon emissions and inspire the next generation to recycle more."
Teachers, governors and parents are being encouraged to sign up their local school. To get involved, contact the council's Waste and Recycling Team by emailing waste.awareness@powys.gov.uk