Steve takes up new volunteer recruiting role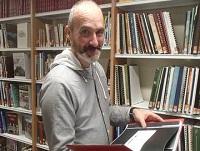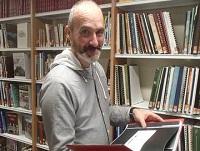 Recruiting more volunteers and developing stronger links with the community are the tasks for a new Powys County Council Archives employee.
Steve Woodward has been taken on by the council's Archives service as its Volunteer and Community Engagement Officer, based in the new Archives and Information Management centre in Llandrindod Wells.
The 8 month post is part-funded by Pave Aways Ltd (the building contractor that completed the building work on the new centre earlier this year) the Museum, Archives and Library Division of Welsh Government and Powys County Council.
Councillor Phyl Davies, the council's Portfolio Holder for Archives commented "The new accommodation for Powys Archives now provides a secure and sustainable future for our historical collections, but both service users and Powys County Council want it to fulfil a greater function than that.
"Recruiting volunteers and engaging with local residents and communities, and evaluating how they interact with and use the archives will be seen by all stakeholders as a significant measure of how successful the new accommodation project has been."
Steve has extensive experience of working with volunteers and community groups ranging from working with children and families in the East End of London; Latin American refugees; Shelter in Bristol and for the Herbert Art Gallery & Museum in Coventry.
In the coming months he will be organising activities and events for Powys Archives to promote the service, and to encourage more users to visit the new facilities at Unit 29 Ddole Road. The Archives team will also be advertising roles for volunteers and ask that anybody with an interest in working with them to get in touch via their Facebook page at Powys Archives/Archifdy Powys or by calling on 01597 826088.
Steve Owen, Managing Director of Pave Aways Ltd added "We are very pleased to have completed the Archives accommodation project on time and on budget for Powys County Council. Our construction projects always include an element of community engagement and we usually employ local tradesmen or use local firms for supplies and services. We are delighted that on this occasion, in addition to that, part of the capital funding will be used to fund a temporary Volunteer and Community Engagement Officer for Powys Archives."
Volunteer and Community Engagement Officer Steve Woodward will be based at the council's new Archives and Information Management Centre in Llandrindod Wells.