Volunteers work on footpaths and bridleways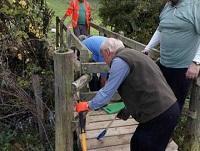 7th November 2017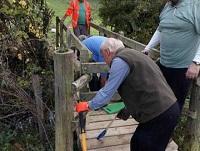 Several communities in north Powys are beginning to see improvements to their rights of way network thanks to a grass roots project being led by local volunteers.
A small team of volunteers, part of the Vale of Montgomery Rural Cluster Group, have started to maintain local rights of way in the area after receiving health and safety training from Powys County Council.
The grass roots project aims to enable communities to take an active role in managing local countryside access and to take ownership of the rights of way network. The cluster group encompasses the areas of Abermule, Berriew, Dolfor, Forden, Kerry, Leighton, Llandyssil, Sarn and Trelystan community councils and Montgomery Town Council.
The group's initial work focused on routes being used by the Montgomery Walking Festival. It included the refurbishment of a footbridge as well as vegetation clearance and waymarking in numerous locations.
Some of the routes used by the Montgomery Walking Festival will now form the basis of a set of publicised walks that will be available as brochures and downloadable online and this could form a model for the surrounding communities.
Jill Kibble, Chair of Walkers are Welcome Montgomery and Vice-Chair of the Vale of Montgomery Rural Cluster Group, said: "Our aspiration of taking control of local footpaths and bridleways is now beginning to show results. We're already planning another volunteer induction day as several people have approached us who want to help and make a real difference.
"With the success of the Montgomery Walking Festival behind us, we will now focus on routes in the Kerry area. Initial surveys have already revealed that there is maintenance work to be done in order to bring these routes back up to standard as a number of stiles have reached the end of their lifetime."
Cllr Jonathan Wilkinson, Powys County Council's Cabinet Member for Countryside Services, said: "This fantastic project is starting to make a real difference to the rights of way network in this part of the county. The work of volunteer teams is essential to ensuring that popular routes remain safely useable and becomes more invaluable to the community."