Powys restaurant prosecuted for falsely describing food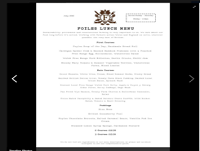 10th November 2017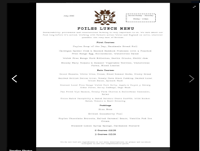 Falsely describing food at a restaurant has cost a food business partner over £7,000 after they were prosecuted by Powys County Council.
Linda Dewan, a partner in Glasbury-on-Wye's Foyles, was convicted at Llandrindod Wells Magistrates Court on Wednesday, November 9. She was prosecuted for falsely describing the food it offered on its menus, its website and on social media. The prosecution was led by the council's Trading Standards Service.
The court heard that trading standards had acted on a complaint it received from Natural Resources Wales (NRW) in April 2016 about concerns they had with menus displays by Foyles, particularly the descriptions 'Wye Salmon' and 'Wye Trout'. NWR passed their concerns to trading standards for investigation.
The court was told that salmon from the River Wye could not even be sold legally and that when trading standards officers visited Foyles they found the salmon and trout products were from other sources, namely farm outlets.
What then followed was an 18-month investigation into the business which showed other false descriptions used by the business on their menus, websites and social media. Numerous partners and chefs/managers had to be interviewed by trading standards as part of the investigation, the court heard.
Dewan pleaded guilty to four charges under the Food Safety Act and one charge under the Consumer Protection from Unfair Trading Regulations 2008 for falsely describing food at the restaurant.
The court sentenced Dewan, fining her £500 for each of the Food Safety Act charges and no separate penalty for the Consumer Protection charge. The court stated that they had given credit to the early plea entered by Dewan and reduced the fine from £750 to £500 for the Food Safety Act charges.
The court also imposed a £50 victim surcharge and ordered her to pay full prosecution costs of £5,380, bringing the fine and total costs to £7,430.
Cllr Jonathan Wilkinson, Cabinet Member for Trading Standards, said: "We must protect the public from false descriptions and support businesses that comply. Our trading standards team will act on intelligence to investigate businesses and, when in the public interest, pursue matters at court.
"The provenance of the food we eat is increasingly important to consumers; it's vital that if food is described as being locally sourced, consumers can purchase this with complete confidence."
Clive Jones, the council's Professional Lead for Trading Standards, Community Safety and Emergency Planning, said: "I commend our officers for the way they have conducted themselves over this complex investigation. Businesses have to get their descriptions correct and must not mislead consumers by false descriptions, otherwise they could end up being in breach of important fair trading and food safety regulations."