Hay & Brecon Farmers Ltd in court over health and safety breaches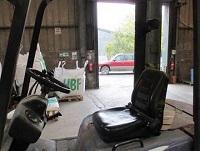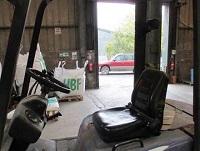 A Powys-based agricultural company that exposed their employees and customers by not operating fork lift trucks safely, has been prosecuted by the county council.
Hay & Brecon Farmers Ltd were prosecuted by Powys County Council's Environmental Health team after an investigation found that they had breached health and safety regulations.
On Wednesday, November 8, Llandrindod Wells Magistrates Court heard that environmental health officers began an investigation in October 2015 following an accident to an employee involving a fork lift truck at the Hay & Brecon Farmers Ltd.'s Brecon store.
The investigation revealed Hay & Brecon Farmers Ltd had failed to organise traffic routes in such a way that pedestrians including both employees and members of the public, could circulate in a safe manner, the court was told.
Fork lift trucks were operated in the same area as people with no separation of time, physical features, direction of flow or boundaries which exposed people to risks to their health and safety.
At the time of the initial investigation and contrary to the company's own documented risk assessments, environmental health officers witnessed a lack of management control of workplace transport health and safety including:
• Fork lift trucks being driven by operators not wearing seat belts provided
• Keys were left in the ignitions of unmanned forklifts, thereby allowing anyone to jump onto and drive
• Failure to separate vehicle and pedestrian traffic routes, and employees were driving too fast inside the warehouse, exposing people (employees, members of the public and authorised officers) to risks to their health and safety
In court, Hay & Brecon Farmers Ltd pleaded guilty to breaches of Regulation 17 of The Workplace (Health, Safety and Welfare) Regulations 1992 and Regulation 5 of The Management of Health and Safety at Work Regulations 1999.
Sentencing Hay & Brecon Farmers Ltd, the court fined them £3,500 for each breach, reduced from £5,000 on the count of their early plea. The court also imposed a £170 victim surcharge and ordered them to pay prosecution costs of £2,000, bringing the fine and total costs to £9,170.
Cllr Jonathan Wilkinson, Cabinet Member for Environmental Health, said: "Hay & Brecon Farmers Ltd had a legal duty to make sure their employees and customers stay safe. This case should act as a warning to firms that they will find themselves in court if they do not take their health and safety responsibilities seriously."