Syrian refugees receive road safety training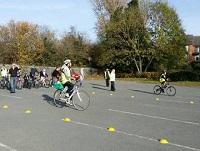 20th November 2017
A group of Syrian refugees have received cycle training thanks to two public sector organisations.
Powys County Council and Dyfed Powys Police provided cycle training to 18 Syrian refugees living in Newtown at the end of October.
The group, whose aged ranged from seven-years-old to 56, took part in the training that was held at NPTC's Newtown Campus. The training was organised after members of the group wanted help with the rules of the road when out cycling.
Cllr Liam Fitzpatrick, Cabinet Member for Highways, said: "Trying to cycle and navigate on our roads when you have no experience at all must have been daunting for the Syrian refugees now living in Newtown.
"The training has provided them with key skills to become safer cyclists when on the road as well as learning valuable road safety advice.
"I'm delighted that our road safety officers and officers from Dyfed Powys Police are working together to keep all members of our communities safe when they are using our roads."
The group that took part in the cycling training are part of the six families that were resettled in Newtown. This was part of Syrian vulnerable person resettlement programme earlier this year.