Powys young people mark Universal Children's Day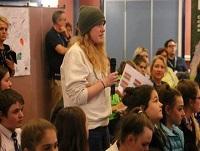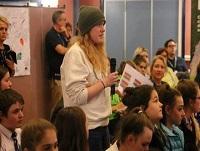 Over 100 young people came together this week from across the county to talk about their health and well-being for the future.
The 'Have Your Say Day' event took place in Llandrindod Wells on Universal Children's Day - 20 November - a day which celebrates Children's Rights across the world and promotes the improvement of child welfare.
Young people, aged 10 - 25 years old, took part in the event and told us their views on various aspects of their lives such as health, safety and jobs. Young people's views will be used to inform the Powys Well-being Plan, the 10 year joint Health and Care Strategy and the Area Plan for the county. This event launched the 12 week consultation on the draft Powys Well-being Plan.
Executive Director of Nursing, Rhiannon Jones, co-chair of 'Start Well' - Children and Young People's Partnership, asked participants to ensure their voices were heard during the day to shape future services in Powys based on 'what matters to them'. Rhiannon says: "The vision of a healthy, happy and safe Powys for children and young people was shared and it was pleasing to see that the issues raised through the multiple workshops aligned incredibly well to these principles."
Powys Youth Forum members Tom White and Lydia Jarman opened the event. Tom spoke about his recent visit to Westminster as the Powys representative on the UK Youth Parliament and the importance of lobbying for change. Lydia spoke about her work on Powys Youth Forum.
Lydia, aged 16 and a student at Llanidloes High school says: "It's been an interesting day, with workshops on topics that I feel very passionate about such as mental health and post 16 education. It's great that some primary school pupils were able to take part too, giving them opportunities to learn about their rights from a young age.
"I was pleased to be able to let everyone know about Powys Youth Forum and the work we do to stand up for children's rights. I think the day was very important for giving young people information about what is going on in the county, and to let them know that they do have a voice and their voice is actually being listened to."
Deputy Leader of Powys County Council, Cllr Aled Davies says: "It was fantastic to see so many young people from across the county come together to discuss what is important to them. It's crucial that we hear the views of young people and that these help us shape priorities and change across public services.
"I enjoyed the event and know we had some good feedback on how we can tackle big issues such as apprenticeships, emotional health and wellbeing and improving digital technology.
"The event was just one way for us to hear the voice of young people in Powys and I would urge all ages to take part in the Well-being consultation events taking place across the county and online at www.powys.gov.uk/haveyoursay. The consultation runs until Sunday 11 February 2018."
Cabinet Minister for Education, Kirsty Williams, joined a panel to respond to some of the issues raised throughout the day. Young people fed back the main concerns raised at the workshops to a panel made up of Simon Prince from Mid Wales and West Fire Service, Cllr Aled Davies, Kirsty Williams AM, Director of Education Ian Budd, Interim Director of Social Services Phil Evans and Executive Director of Nursing Rhiannon Jones. Issues raised included school budgets, mental health support, cyber-bullying, road safety, street lighting and better access to broadband.
The event was run on behalf of the Powys Regional Partnership Board and the Powys Public Service Board, with support from members of Powys Youth Forum and practitioners from across the council, the health board, fire service and other agencies.