Standing together against Domestic Abuse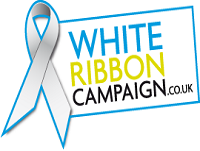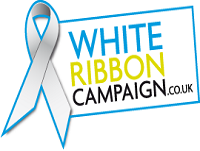 White Ribbon Day and the International Day for the Elimination of Violence against Women was celebrated by partners across Powys at an event on 24 November.
Powys County Council staff, partners and residents came together at the event in Llandrindod to show support to survivors and to make the White Ribbon pledge never to commit, condone, or remain silent about domestic abuse.
Powys County Council's Cabinet member for Children, Youth, Libraries and Leisure, Cllr Rachel Powell, commented:
"As a White Ribbon Authority we are committed to opposing domestic abuse and all forms of violence, many of which disproportionately affect women. The last national crime survey shows over 1 in 4 women and nearly 1 in 7 men have already been a victim of domestic abuse. That means over 26,000 people in Powys know exactly why this campaign is so very important.
"It is not just the victim who suffers, the impact of abuse ripples out to relatives, friends, family and the community. This event provided an opportunity for us all to pause and reflect on our roles in tackling this problem and think about what more we can do.
"We are currently delivering awareness training to all council staff on these issues so that staff are increasingly confident about what the signs of abuse could be and where to get help. That knowledge can save lives.
"The White Ribbon event gave us chance to learn about the dedicated work that goes on every day in our village halls, schools, communities and workplaces to combat abuse. It enabled us to show our support for those who have suffered and encourage others who are victims of domestic abuse, whether women or men, to call for help."
The Violence against Women, Domestic Abuse and Sexual Violence (Wales) Act 2015 sets out to help challenge public attitudes, improve how we support survivors and train those who work for the council to understand what domestic abuse and coercive control looks like and know how to raise concerns.
Organisations taking part included Calan DVS, Creu Cymru, Powys County Council's Children's and Adult Social Services, Hafan Cymru, Welsh Women's Aid, Montgomeryshire Family Crisis Centre, PAVO, the Spectrum Project and White Ribbon Ambassadors, The Welfare, Ystradgynlais.
For more information or to find out how to get help with domestic abuse visit www.powys.gov.uk/da