Apprentice star coming to Powys Careers Festival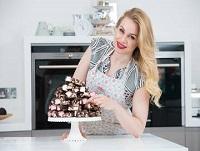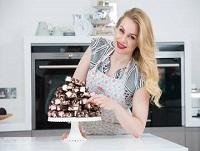 Apprentice winner, Alana Spencer will be the keynote speaker at the 2018 Powys Careers Festival.
The 2016 winner of BBC TV's The Apprentice, Alana Spencer, will be the keynote speaker at the 2018 Powys Careers Festival, it has been announced.
The March 7th event was formally launched in Builth Wells this week (Monday November 27th) at a special reception at this year's Royal Welsh Show Agricultural Society Winter Fair.
Powys County Council's Cabinet Member with responsibility for Education, Cllr Myfanwy Alexander announced that the successful baker, who is managing director of the 'Ridiculously Rich' brand of handmade cakes and chocolates will be passing on her experiences to High School, Special School and College students from across the county.
Alana is the perfect speaker for the Careers Festival which will actually be taking place during National Apprenticeship Week 2018. The mid-Wales based businesswoman took first place in the 2016 series, winning £250,000 in prize money for her business. Lord Alan Sugar, the face of the series, continues to play an instrumental role in supporting her business.
Some 2,500 students from across the county attended the 2017 Powys Careers Festival and in 2018 even more are to be invited. The festival is the work of the Positive Pathways Powys partnership - a multi-agency group made up of Powys County Council, Secondary schools in the county, Careers Wales, the NPTC Group of Colleges, Cambrian Training and the Powys Association of Voluntary Organisations. The partnership aims to highlight to young people the opportunities available to them when they leave compulsory education.
Cllr Myfanwy Alexander, commented: "It's an exciting time for the Powys economy and we are determined as a council that we do everything in our power to provide the opportunities and the economic conditions in which our young people can flourish."
At the launch, guests also heard how the 2017 event directly led to a student gaining employment at the Metropole Hotel in Llandrindod Wells.
Jackie Parker is Chair of the Positive Pathways Powys partnership (and is Head of Crickhowell High School) and she commented: "This is a wonderful opportunity for the Young People of Powys to explore exciting new possibilities for their future careers utilizing the considerable expertise of the Positive Pathways Team."
Exhibitors from a wide range of sectors will be present on the day representing universities, colleges, private and public sector employers and the voluntary sector.
The 2018 Powys Careers Festival is being sponsored by the Royal Welsh Agricultural Society, Cambrian Training, Powys Secondary Schools, The North and Mid Wales Reaching Wider Partnership's Regional Operational Group, West Ent audio visual and event production, Compact Orbital Gears, Lanyon Bowdler Solicitors and Kier Construction.
A small number of sponsorship packages are still available for the 2018 event. To find out more contact Jayne Bevan on 01597 826695 or email Jayne.bevan@powys.gov.uk