Mid Wales Growth Deal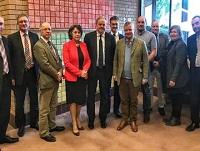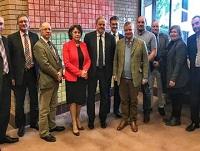 UK Government Minister Guto Bebb has been in Llandrindod Wells today (Thursday) to open the door to a mid-Wales growth deal.
He met Powys County Council Leader Councillor Rosemarie Harris and cabinet members to discuss the vision to grow the mid-Wales economy.
"Growth deals have the potential to re-shape the economic development of a region so I welcome the commitment for a growth deal for Mid Wales," said Councillor Harris.
"Any growth deal for Mid Wales could improve the transport infrastructure, digital connectivity and help to develop new job opportunities for the region. This would be of huge benefit to Powys and to Wales as a whole. We want to develop a thriving economy in Powys and a growth deal for Mid Wales will help us to achieve that."
During the visit the Minister said that the mid-Wales economy has tremendous potential for growth.
"A mid-Wales growth deal would be the catalyst to revolutionise the way our towns and villages in mid-Wales govern themselves - shifting powers down from London and Cardiff to local leaders who are better placed to take decisions that affect their communities.
"The development of a Midlands Engine across the border offers a unique chance to partner and develop a growth corridor stretching all the way from Aberystwyth to the Midlands.
"With the launch of our Industrial Strategy, which includes opportunities for a growth deal for mid-Wales, there has never been a better time for businesses, local authorities and the agriculture sector to seize the opportunity to come together and build a strong vision for mid-Wales."