Counterfeiter prosecuted by trading standards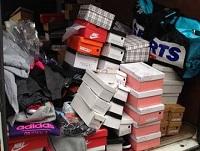 13th December 2017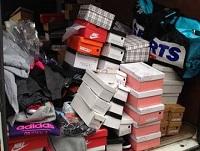 Traders and individuals who decide to supply counterfeit goods over the internet or through local supply chains could face legal action with substantial penalties, as well as losing all the money they have made from their criminal activities, Powys County Council has warned.
The warning has been issued by the council's Trading Standards Service after it successfully prosecuted one defendant at court this week for offering counterfeit goods he had bought to sell on.
David Gospel now of Birmingham but formerly of Welshpool, Powys pleaded guilty to five offences under the Trade Marks Act 1994 at Llandrindod Wells Magistrates Court last week (Wednesday, December 6) and was sentenced to a 12-month community order.
He was also given 15 hours probation, 80 hours unpaid work and ordered to contribute to £500 to the councils costs of £1,975 as well as having to pay a £85 victim after an early plea.
During the hearing, Robert Brown prosecution solicitor explained that the proceedings involved an investigation conducted by officers from the council's Trading Standards Service, after they were called in by Dyfed Powys Police after Gospel was stopped on a road traffic stop in late October 2016.
His vehicle was found to contain a quantity of suspected counterfeit goods (mostly clothing and footwear) and further quantities were also found at his home premises in Welshpool in a subsequent search.
Trading standards officers also found that Gospel had offered the goods on various sites on social media and was allegedly setting up to sell counterfeit clothing and footwear. All products were seized by Trading Standards and all found to be counterfeit.
Cllr Jonathan Wilkinson, Cabinet Member for Trading Standards, said:
"We support legitimate businesses and local tax payers by targeting illegal shadow economy activities such as product counterfeiting by individuals. These individuals have little regard to the county's traders and only seek to further destabilise our economy.
"Firm action is needed on any issues related to product counterfeiting to promote fair trading within our community and to take the criminal benefit away from those that conduct in criminal activity.
"We will continue this work to support the intellectual property rights of our local businesses, the wider business community and also the safety of the public in general."
Clive Jones, the council's Professional lead for Trading Standards, Community Safety and Emergency Planning, said:
"We have noticed that many people are tempted to import large quantities of products from wholesale auction sites in the Far East or to go to UK warehouses and bulk buy from suspect sources thinking that they will make huge profits. But our investigations have highlighted that some of these supply chains clearly involve counterfeit goods.
"Counterfeit goods can often be dangerous when it comes to cosmetics or electrical products and clothing and footwear will be inferior.
"What we encounter is individuals solely looking at profit, with no experience in the product they are importing or buying, no knowledge of legitimate supply chains or the original product or concern about the safety of the product they are selling and who don't care about what effect it has on legitimate trade. We will stamp these practises out through education and enforcement.
"Our surveillance on illegal activity involving counterfeiting is increasing. We ask users of auction sites or any person offered suspected counterfeit goods to be vigilant and to warn us of any suspicious sellers through our contact points.
Alternatively ring Crimestoppers on 0800 555 111. This action would not have been possible without the support of Dyfed Powys Police and we wish to thank officers from the road policing team and intelligence unit."
The council's Trading Standards Service can be contacted on Brecon 01874 623420; Llandrindod Wells 01597 826032; Newtown 01686 617524. Alternatively email trading.standards@powys.gov.uk or visit www.powys.gov.uk/tradingstandards.