Road conditions improving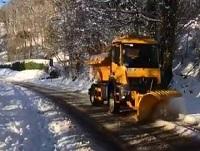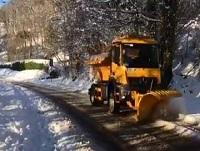 Road conditions in Powys continue to improve following the substantial snowfall the county experienced last weekend.
Powys County Council's highways team has been working hard since last weekend to clear the main road network of snow to keep the county moving.
The council will now look to remove the snow from the more remote roads but with changing weather conditions up until Sunday, its priority will continue be the main road network.
The council is also reminding drivers that road conditions could continue to be difficult with low temperatures and wet weather a possibility until the end of the week.
Cllr Liam Fitzpatrick, Cabinet Member for Highways, said: "Our highways staff have done an amazing job in challenging conditions and I would like to give them huge thanks for their efforts.
"Now the majority of the main network is now clear of snow, we can try and remove the snow from the roads on higher grounds and in the more rural areas.
"However, our priority will continue to be the main road network but if we experience further wintery conditions then we will need to focus on the main roads.
"I want to remind drivers to be cautious when driving in changing winter weather conditions. Low temperatures and wet weather makes road conditions difficult, even when the roads have been gritted.
"It is essential that drivers go carefully and patiently and that they take care on the roads."