New machinery to boost road repairs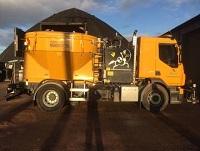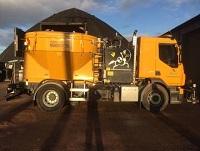 New machinery that will help repair the county's roads has been purchased by Powys County Council.
A capital investment of over £425,000 has seen the council purchase two Archway Roadmaster spray injection patching machines, which will tackle several times the number of road defects compared to traditional patching methods.
One of the machines, which is operated by one person from the cab of the vehicle, recently repaired 40 square metres of potholes. It would have taken a four-person workforce using traditional patching methods and numerous pieces of equipment all day to repair the same amount of potholes.
With budgets under increasing pressure, the new machines are seen as a cost-effective way of maintaining the county's highway network.
Cllr Liam Fitzpatrick, Cabinet Member for Highways, said: "Our highways teams work very hard all year round trying to keep our roads in good condition but we are always looking at how we can make our highways operations as efficient as possible.
"These new machines will help us repair our roads cheaper, quicker and safer than the traditional patching methods we have used in the past. Another benefit is that only one person is needed to operate the patching machine.
"There is also zero material wastage when these machines are being operated so not only will this help us keep operation costs to a minimum, it is also more environmentally friendly."