Normal service for recycling and waste collections next week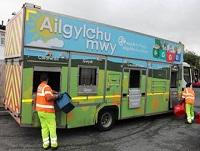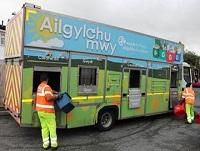 Recycling and waste collections in Powys will resume as normal next week (Monday, December 18) following the recent winter weather, the county council has confirmed.
Powys County Council suspended all recycling and food waste collections for this week as collections were disrupted by the significant snowfall the county experienced. Residual waste (black bin collections) have been taking place two days later for households due a collection.
Now the council's Waste and Recycling Team have confirmed that collections will go back to normal next week and are urging households to put out their recycling and waste on their collection day.
Cllr Phyl Davies, Cabinet Member for Waste and Recycling, said: "I would like that thank householders for their understanding as we had to change our normal recycling and waste collection service because of the significant snowfall.
"Now the snow has melted, our recycling and waste collection service will get back to normal next week.
"We appreciate that households have missed a recycling and food waste collection and that they will have more to recycle than normal.
"If your recycling boxes are already full, please leave any excess material in an open carrier bag ready for collection.
"Remember not to put mixed recycling in your bags as we will not collect this. Use separate bags for glass bottles, cans and plastics and paper and card.
"Excess food waste can be left next to the food caddy but our advice would be not to leave it out overnight."