Criw Celf's young artists celebrate in Newtown gallery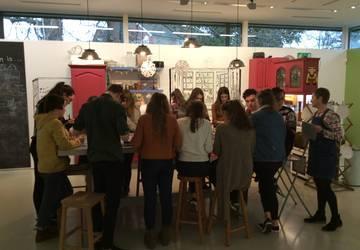 2nd January 2018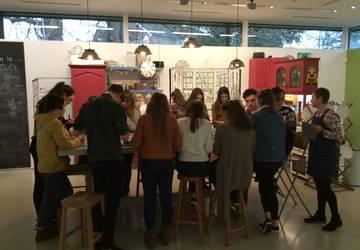 Talented young artists from the north of Powys and Ceredigion held their Christmas Party in Newtown recently.
The young people are all taking part in the Criw Celf scheme, which aims to support those young people who are enthusiastic about, and have a talent for, the visual arts.
This year's Criw Celf Christmas Party was held at the Oriel Davies Gallery and included a careers event, involving working with arts professionals Catrin Webster, Sophie Kumar Taylor and Louise Hobson In addition, the group of 12-18 year olds also got involved in some creativity and enjoyed a 'Christmassy Buffet'.
Criw Celf, in Powys, is funded by Powys County Council as well as the Arts Council for Wales. Powys County Council's Cabinet Member with responsibility for the Arts, Cllr. Rachel Powell commented: "It's wonderful to see that Criw Celf Ceredigion joined their peers at Newtown and I hope they all had a lovely Christmas party."
"We are very pleased to support Criw Celf here in Powys as we feel it is extremely important that those young people who have a talent for the visual arts are given the opportunity to really develop their skills," added Cllr. Powell.
Criw Celf participants are nominated by their school's Art teacher, or they can self-nominate. The project runs from October to March every year (avoiding key revision and exam times), with events in north Powys taking place at weekends or during school holidays.
Places for free school meal recipients are free - otherwise the annual fees are £35.
For more information regarding next year, please contact the Criw Celf Co-ordinator for north Powys, Bethan Page, who is based at the Oriel Davies Gallery. Tel: 01686 625041 or email desk@orieldaviees.org. Alternatively, please speak to your Art Teacher at a Powys' high school and ask to be nominated for Criw Celf!
Bethan is also working with the Learning Department at Aberystwyth Arts Centre to help establish the Criw Celf project in Ceredigion.
She explained: "There are many benefits and efficiencies in working together, for example the group at Criw Celf Ceredigion attended the Criw Celf Christmas Party at Newtown.
"Both Criw Celf projects are also benefiting from working together with NAWR - the Arts and Education Network for Mid and West Wales. NAWR is part of the Arts Council's Creative 'Learning Through the Arts Initiative', and provides training and support for Criw Celf co-ordinators, and helps to promote the project through its website https://nawr.cymru/criw-celf-2/oriel-davies/
Criw Celf is led in Powys by the county council's Arts Service. In the north of Powys it is run in partnership with the Oriel Davies Gallery, while in the south of the county it is run in partnership with Arts Alive Wales