Last call for exhibitors for Careers Festival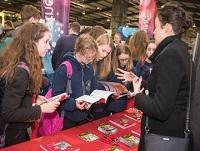 16th January 2018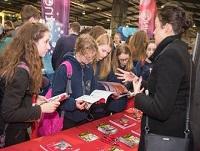 The organisers of the Powys Careers Festival are making a last call for exhibitors for this March's event.
The event takes place on Wednesday March 7th and expects to be even bigger and better than the 2017 event which saw more than 2,500 young people attend. The event at the Royal Welsh Showground in Llanelwedd, is free to exhibitors and for those students attending.
The Powys Careers Festival is designed to show the county's young people what opportunities are available to them once they've finished compulsory schooling. Those opportunities include:
continuing education via 6th form, further education or higher education;
employment, including apprenticeships;
self employment;
volunteering.
The event is being organised by the Positive Pathways Powys Group. Jackie Parker is Chair of the Partnership (and is also Headteacher at Crickhowell High School) and she commented:
"If there are any organisations or employers out there who haven't confirmed that they are attending, please get in touch with my colleagues Jacky Jones or Jo Sheil on 02920 84 6371, or email Jacqueline.jones@careerswales.com as soon as possible, please. It's free to attend, you'll have access to around 3,000 young Powys people and we'll provide you with lunch."
This year's event will feature, as keynote speaker, Alana Spencer, winner of the 2016 BBC show, The Apprentice.
The 2018 Powys Careers Festival is being sponsored by:
The Royal Welsh Agricultural Society,
Cambrian Training,
Powys Secondary Schools,
the NPTC Group of Colleges,
The North and Mid Wales Reaching Wider Partnership's Regional Operational Group,
West Ent audio visual and event production,
Compact Orbital Gears, Lanyon Bowdler Solicitors and Kier Construction.
A small number of sponsorship packages are still available for the 2018 event. To find out more contact Jayne Bevan on 01597 826695 or email Jayne.bevan@powys.gov.uk
The multi-agency Positive Pathways Powys Group brings together:
All Powys Secondary Schools,
Powys County Council,
Careers Wales,
The NPTC Group of Colleges,
Powys Association of Voluntary Organisations (PAVO)
Cambrian Training