Making it easier for people to access information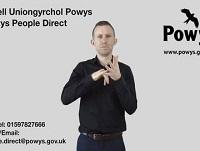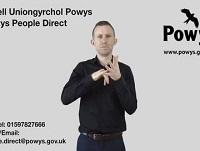 Powys residents will find it easier to communicate with the county council thanks to significant website improvements that support access to information and advice online.
The website, which already had a broad range of information in both Welsh and English with leaflets to download and print, now offers sign language and a new app to make information even easier to access.
The two innovative additions are British Sign Language (BSL) films, and Browsealoud, an app to help people listen to information.
Cllr Stephen Hayes, Cabinet Member for Adult Services said: "Our main aim was to ensure that deaf and deafblind people have the same opportunities as everyone else, and the same access to education, employment and services. BSL is a visual-gestural language, with its own grammar and principles, which are completely different from the grammatical structure of Welsh and English.
"The addition of BSL is very new for the council, and our aim is to build on the nine pages that have been interpreted in early spring of 2018.
"The second addition to the council website was Browsealoud. The app adds speech, reading, and translation to the council's website which supports people with Dyslexia, mild visual impairments and people who have difficulty in reading.
Cllr Jackie Charlton, member for Llangattock is profoundly deaf and has been very keen to highlight the need to understand and deliver support for people who use sign language as their first language.
"This is such a good project. It helps those who are often left behind when information is shared about services that should be delivering for everyone. Powys is working to make sure that reasonable adjustments can be made wherever they deliver a service as well as support for existing and new employees too," she said.
"I hope this innovative project is taken up by other authorities in Wales and the Welsh Assembly. At the moment it is only Powys that delivers this service in Wales. We can as a council do much more, and look forward to seeing other initiatives too."