Care Worker Recruitment Event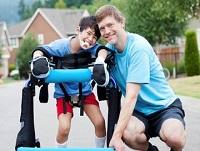 A specialist residential and respite children's home for children and young people in Brecon are looking to recruit new care staff.
Golwg Y Bannau & Golwg Y Gamlas offers a home-from-home residential and respite opportunity for children and young people with autism and other complex disabilities.
Open days are taking place for those interested in joining the team to care for children and young people with disabilities. You can find out more between 10 am and 6 pm on Thursday 22 February in The Elephant & Castle, Newtown and on 27 February in Elim Church, Brecon.
Cabinet member for Children, Youth, Libraries and Leisure Services, Cllr Rachel Powell, says: "Golwg y Bannau & Golwg Y Gamlas provides a happy, safe and stimulating environment for 4 - 18 year olds. Children and young people are encouraged to feel at home, make friends and take part in a wide range of activities, within the house as well as out and about in the local community.
"This is a challenging but rewarding and caring environment. The team support young people to grow in confidence and to develop life and social skills to the best of their ability. I'd encourage anyone interested in working with children with disabilities to come along to one of the open days later this month."
The units are owned and managed by Powys County Council and registered with the Care Inspectorate Wales. It is staffed by a highly motivated and well qualified team, committed to seeing young people thrive.
Care staff are needed for both day and night care and must be at least 22 years of age. There are opportunities for full and part time work, permanent and relief staff.
Staff receive on-going training and support to progress in their caring career. If you are interested in joining the team then come and see us at one of the open days to chat to staff and find out more.
Email bannaucamlas@powys.gov.uk or call 01874 623 424 for further details.