The youngest to join Powys Library Service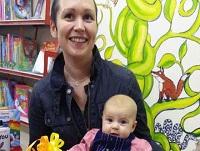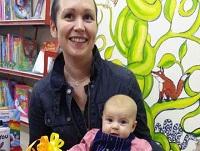 Powys youngsters are being encouraged to sign up for library membership as early as possible to get them interested in books at an early age.
Isla Bound joined Llanidloes Library at nine days old and became the youngest new member of Brecon, Newtown, Llanidloes and Rhayader libraries during the Babies First Shapes Pilot Scheme in the county.
The library presented Isla's mother with a gift of picture and shape board books and Isla's very own membership to the library.
Isla's mother, Paula Jones said, "I was thrilled with the little books for Isla. There is a lovely welcoming children's library in Llanidloes. Isla has already been curious about turning the pages and looking at the shapes."
Cabinet Member for Libraries, Councillor Rachel Powell said; "It is never too early to read to your child, even new born babies will know their parents voice, the tone, the emphasis of words and rhythmical patterns of poems and texts. Face to face contact is especially important, as it assists babies to mimic the social turn taking of conversation, as well as, the pronunciation of sounds by watching the mouth movements of their care givers.
"Books with shapes, dark in colour and tone, assists babies in their focusing as at very early stage, their vision is initially limited but, prominent shapes, like the eyes of their care givers, naturally draws them. This is the reason why such books reinforce this developmental stage and enhances it. In conclusion, the earlier books are introduced to a child's life the greater the opportunities to enhance development in their verbal, visual and communication skills'.
"Libraries are a vital resource for all children and reinforce the enjoyment of reading, social interaction and a natural form of life-long learning. It is also a place that allows a free opportunity to learn within a safe and comfortable environment, with helpful and resourceful staff on hand, vital for all of our learners. "
For more information on this early reading scheme and others, go to http://www.powys.gov.uk/libraries