Rural footbridge re-opens for use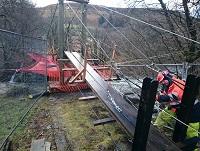 27th February 2018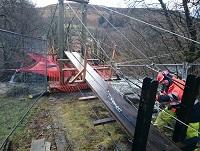 A public footpath between Rhayader and Llangurig has re-opened after refurbishment works were carried out to a 40-year-old footbridge, Powys County Council has announced.
The timber and steel cable suspension bridge at Dernol is one of a handful of suspension footbridges that span the River Wye as it flows through the county.
Following a report from a member of the public and subsequent engineer's assessment, the bridge was closed to the public pending safety repairs.
Although Powys County Council's Countryside Volunteer team routinely undertakes repairs and replacements of timber footbridges on public rights of way, the unusual nature of this bridge and its location required more specialist skills.
The works involved a local contractor working from safety wires suspended above the bridge to enable the decking to be completely separated from the supporting cables. This technique also safeguarded the protected river habitat below and avoided the need for expensive scaffolding.
Cllr Jonathan Wilkinson, Cabinet Member for Countryside Services, said:
"This particular bridge posed an unusual challenge given its design and location but it's now open to the public again thanks to the expertise of the local contractor and the kindness of the neighbouring landowner in assisting us with access.
"There are a huge number of footbridges on public rights of way across Powys. Local footpath networks connect us to our local community and beautiful countryside, and work to maintain them benefits both local residents and visitors alike. The positive response already received following these works demonstrates the value of local rural routes."