Talgarth library relocated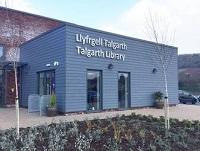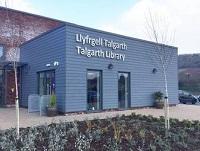 Talgarth Library has moved into its beautiful new home, alongside Ysgol y Mynydd Du.
The old library closed its doors on Wednesday 21st February at 12pm, and the contents were packed, moved and set up at the new site, ready for business as usual on Tuesday 27th February.
Branch librarian Jan Shivel welcomed the first customers Mr and Mrs Evans from Talgarth to the new library.
The library is situated within the community area of the new site, and is completely separate from the school, with its own entrance, so that the public can come and use the library freely without interrupting the school day at all. The space can also be re-arranged easily for meetings and other community activities, and includes a small kitchenette and disabled toilets, plus plenty of free parking outside.
Head Teacher, Mrs Toone said "We have enjoyed the opening of the new school, and the pupils and staff have been both very excited and impressed by the hard work that has been put in to make this project happen. I am also very pleased that the Library has been included, and is now just next door to us - allowing learning and the love of reading to flourish in our community."
The library can of course be used by the pupils from Ysgol y Mynydd Du too, encouraging a positive reading culture and offering resources and activities for them. Visits have already been arranged by the school, for pupils to enjoy the new library space.
The library continues to offers a variety of fiction and non-fiction books for all ages, reference material and access to local history resources. The public computers have moved across, together with Wi-Fi, printing and scanning facilities, and the Library+ service is still provided, allowing council payments to be made.
Portfolio holder Cllr. Rachel Powell said: "I am pleased that Talgarth library has co-located with the new community focused school - the new site will have a vital role at the heart of the Talgarth and Bronllys community and the library will provide an additional valuable learning asset for future generations to access. I know that they will work well together."
The building was funded with support from the 50/50 Powys County Council and Welsh government 21st century schools programme