Waste and recycling to be collected later this week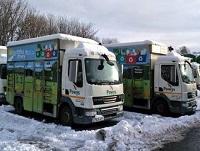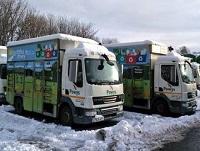 Households across Powys are being reminded that waste and recycling collections will be delayed this week after the service was disrupted by the recent severe weather conditions.
Powys County Council's Waste and Recycling crews continue to work hard to catch with collections that were missed due to the snow.
Although the crews have made good progress this week, service disruption will continue in some parts of the county with parts of the minor road network still affected by snow drifts. The council will try to collect from these areas as soon as road conditions improve.
The council will collect waste and recycling later than scheduled bearing in mind that waste and recycling crews are now operating new collection rounds on the new collection days.
Cllr Phyl Davies, Cabinet Member for Waste and Recycling, said: "Our crews have made good progress to catch up on the missed collections. However, there are still some parts of the county we will not be able to get to because our vehicles will not be able to get through some of the snow drifts that remain.
"We appreciate that the disruption is frustrating for residents but the council is doing all that it can to restore a normal collection service. It is hoped that normal service will be restored by next week.
"We apologise for the inconvenience and thank residents for their patience."
Anyone who has forgotten their new collection day, or which week their blacked wheeled bin collection is, can use the bin collection day checker facility at www.powys.gov.uk/recycle