Thousands visit second careers festival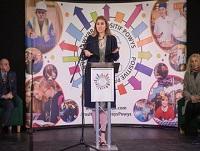 20th March 2018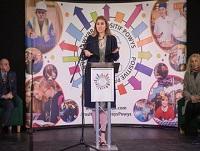 Around 3,500 young people from all over Powys visited the second Powys Careers Festival at Builth Wells this month.
Students from high schools, special schools and further education campuses visited the 2018 festival which was organised by the Positive Pathways Powys Group, where they had the opportunity to talk to more than 110 exhibitors.
Jackie Parker is Chair of the Group and she commented:
"I'd like to say a huge thank you to all of the students, exhibitors and sponsors who made our second festival even better than our 2017 event. I'd also like to say a huge thankyou to our keynote speaker, Alana Spencer, who was the winner of the 2016 BBC TV Apprentice show."
This year, the event was sponsored by:
Powys County Council,
Careers Wales,
The North and Mid Wales Reaching Wider Partnership,
The Royal Welsh Agricultural Society,
Cambrian Training Company,
The Royal Welsh Agricultural Society,
the NPTC Group of Colleges,
West Ents audio visual,
Compact Orbital Gears,
Lanyon Bowdler solicitors,
Kier Construction and
SP Energy Networks
Ms Parker commented: "I'd also like to say congratulations to Oriel Davies in Newtown for winning the Best Exhibitor award and to the team of pupils from Crickhowell High School who won the Student presentation competition.
"We're looking forward to inviting these students - and the teams from the NPTC Group of Colleges - to the Powys County Council management team to hear from them how we can make the county better for young people.
"Without all of the people involved it wouldn't have been half as good. Thank you very much," said Ms Parker.
As well as Powys students, this year the festival also welcomed some 40 students from Ysgol Henry Richard in Tregaron, Ceredigion.
The Positive Pathways Powys Group is a partnership of:
Powys County Council, Careers Wales,
secondary schools in the county,
the NPTC Group of Colleges,
Cambrian Training, and
PAVO (The Powys Association of Voluntary Organisations) which aims to promote the opportunities available to Powys students after compulsory education.
Photographs of the event can be found on the partnership's Facebook page www.facebook.com/PositivepathwaysPowys/