Ruby wins iPad in careers poster competition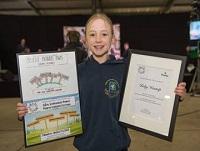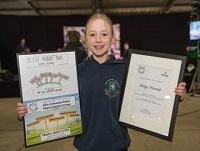 A pupil from a mid Wales high school walked away with an iPad mini after being chosen as the winner of a poster competition for this month's Powys Careers Festival.
Ruby Westrip from Newtown High School's John Beddoes campus was chosen from amongst the entries and also won an afternoon's work experience at Powys County Council working alongside the authority's graphic designer.
The competition was organised by the Positive Pathways Powys Group to promote its 2018 Powys Careers Festival which took place at the Royal Welsh Showground earlier this month.
Ruby received her prize from the keynote speaker at the event - the winner of the 2016 BBC TV Apprentice series, Alana Spencer.
Ruby's poster idea was worked into a final designer by the council's graphic designer and was then displayed at schools and colleges across the county as well as online.
Jackie Parker is Chair of the partnership and she commented: "Well done to Ruby. She was up against some really good designs but the panel of judges chose hers for the simplicity of the idea and the impact it had as a poster. I hope she is enjoying using her iPad and that she found her work experience at County Hall, useful."
Guto Llyr Thomas-Young of Llanidloes High School was awarded second place in the competition while Donovan Miles of Gwernyfed High School picked up third place.
Headmaster of Newtown High School Rob Edwards paid tribute to Ruby: "I am delighted that Ruby's hard work and efforts have been rewarded with this fantastic prize. Ruby is an absolute credit to the school. We are all very pleased for her."
The Positive Pathways Powys Group is a partnership of Powys County Council, Careers Wales, secondary schools in the county, the NPTC Group of Colleges, Cambrian Training, and PAVO (The Powys Association of Voluntary Organisations) which aims to promote the opportunities available to Powys students after compulsory education.