Careers winners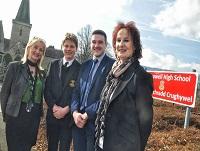 29th March 2018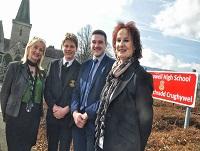 A team of pupils from Crickhowell High School has been presented with their prizes after winning a competition at the Powys Careers Festival earlier this month.
They came first in a competition to create a presentation setting out what would make Powys a better place to live and work for young people. The festival - and the competition - was organised by the Positive Pathways Powys Group.
Conrad Klappholz received vouchers on behalf of his team from Councillor James Evans at the school. Along with fellow team mates Gabriel Kennedy and Cole Sutherland they won £100 of vouchers for themselves and a magazine subscription for their school.
County council Cabinet Member, Cllr. Evans commented: "I was delighted to be able to present Conrad with the team's prize. Their presentation really was first class. It set out their views on how the county could be made a better place for young people and I'm really pleased that these pupils will be reprising their presentation to the county council's Management Team in the very near future, along with students from the NPTC Group of Colleges."
He added: "In chatting to Conrad, I found out that he is interested in the world of politics so I've invited him to spend a day with me at County Hall to have a close up view of local government in Powys."
In their presentation, the team raised the issues of limited public transport, poor broadband and suggestions regarding schools.
Cllr. Myfanwy Alexander, is Cabinet Member with responsibility for Schools commented:
"'The thoughtful contribution from the group from Crickhowell made them worthy winners of this prize and I look forward to hearing their presentation when they come to the Cabinet. Hearing the voice of young people is vital for us as we work to shape the Powys of their future."
The vouchers were kindly donated by What About Me? Training Ltd. (www.wamwhataboutme.co.uk.), which specialises in CPD training for professionals who work with vulnerable, fostered and adopted children.
"Congratulations to Conrad, Gabriel and Cole, their presentation was thought provoking and pinpointed areas which could be improved to encourage more young people to live and work in Powys. I was also impressed by the teams from the NPTC Group of Colleges. We thoroughly enjoyed the day and are looking forward to sponsoring the competition again next year. Many thanks to our colleagues from Reaching Wider and Positive Pathways Powys for inviting us," said Sharon Hughes, Company Director.
Carron Goold, Director of Learning (Welsh Baccalaureate) at Crickhowell High School paid tribute to the winning team: "I am immensely proud of Gabriel, Cole and Conrad for their professional presentation. They expressed their views eloquently and confidently. They look forward to presenting to the Council.

"The Powys Careers Festival provided a superb opportunity for students and staff, to realise the opportunities available to our young people. This was a brilliant event, enjoyed by all! I would highly recommend all schools to participate next year. It also gave students an opportunity to have their say and I am thrilled that Crickhowell High School were successful winners, in such a highly competitive competition; the standard of presentations was very high! Da iawn pawb!"
The Positive Pathways Powys Group is a partnership of:
Powys County Council,
Careers Wales,
secondary schools in the county,
the NPTC Group of Colleges,
Cambrian Training, and
PAVO (The Powys Association of Voluntary Organisations)) which aims to promote the opportunities available to Powys students after they finish compulsory education.