'Girls who code' event success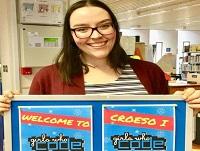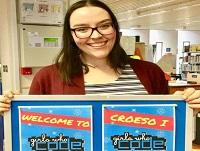 Brecon Library celebrated International Women's Day earlier this month (8 March) with a 'Girls Who Code' event, designed to get girls interested in computer coding and STEM careers (Science, technology, engineering and maths).
The session included a number of activities, including making jewellery using binary code, finding out about famous women in science, coding a Lego maze and using Scratch to program Ada Lovelace's random poetry generator!
Brecon Library already holds regular coding sessions each month, but with small numbers of girls attending, International Women's Day proved the perfect time to try and boost the numbers.
Cllr Rachel Powell, Portfolio holder for Libraries said: "The "Girls who code" event was the brainwave of Tilly who works as a library assistant at Brecon. It was well attended and allowed girls to 'have a go' at coding and think about a potential career in the sciences. Currently, females in this sector only make up around 17% of the UK workforce. By putting on events like this, our libraries are actively supporting computer based learning and helping young women to achieve their full potential and not be afraid to study STEM subjects if they appeal to them."
Tilly Boscott added: "Computer coding is basically telling the computer what to do, and there are lots of different coding languages. Right now we're using the Scratch language, which is really user-friendly, because instead of having to type in lots of commands, you just drag coloured blocks around the screen and stick them together. It's like Lego!"
To find out more about the Code Club and other events at Brecon library, contact Brecon.library@powys.gov.uk Volunteers are also welcome, to support events and activities, both immediately and when the library and museum move into the new Y Gaer building later in the year.