Partnership award for Powys CSP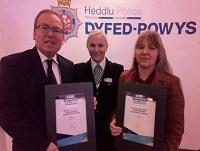 6th April 2018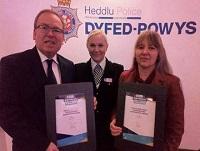 A partnership that works to ensure that Powys remains one of the safest places in Wales and England to work and live has won a prestigious award.
The Powys Community Safety Partnership (CSP) picked up the Police and Crime Commissioner Partnership Award at the 2018 Dyfed Powys Police Awards ceremony last month (Friday, March 23).
The award specifically recognises those partners that collaborate successfully in order to improve working practices, reduce costs and achieve the mission of 'safeguarding our communities together'.
The partnership was nominated for its work in two areas - community alcohol partnerships and neighbourhood management.
Neighbourhood management is a method of working that the partnership uses to tackle quality of like issues which impact upon communities rather than individuals. The partnership is also instrumental in tackling underage drinking in Brecon and Newtown through the county's two Community Alcohol Partnership.
Chair of the Powys Community Safety Partnership, Chief Inspector Rhiannon Ivens, said:
"The Powys Community Safety Partnership thoroughly deserves this award which recognises that this isn't just a job but a passion for those involved. They go above and beyond to ensure we work together to improve existing services and respond together to tackle crime and anti-social behaviour.
"I want to add my personal thanks to Fay Smith, Clive Jones and to everyone involved and say that the last year as the CSP Chair has been a real pleasure to work with such positive and pro-active partners in Powys."
Cllr Aled Davies, Powys County Council's Deputy Leader and Cabinet Member for Community Safety, said: "This is a great honour and one that all partners of the CSP should be proud of. This award recognises the work that is carried out by CSP in keeping our communities safe."