'Birthday' for oldest document later this month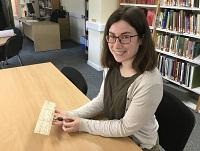 10th April 2018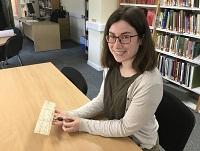 The oldest document held by Powys County Council's Archives service celebrates its 700th birthday later this month.
Written on April 21st, 1318 the title deed records a transfer of land between two parties in Old Radnor.
The deed is written in Latin and made of parchment. The attached seal is made with bees wax and coloured with green Verdigris, and the seal impression is a stylised lily.
Cllr Phyl Davies, Portfolio Holder for Highways, Recycling and Assets commented:
"This type of document is extremely rare for mid-Wales, and provides a fascinating glimpse into families and properties which existed in the county 700 years ago."
"Researching local history can be a great social pastime and using sources such as title deeds to search the history of your house may help you uncover some intriguing stories," he added.
Title deeds are one of the many types of sources held by Powys Archives, but every house has a story; whether it is a couple of years old or a couple of hundred years old Powys Archives will hold something of interest.
But in order to find information you need to become a bit of a local detective. Modern Ordnance Survey maps and electoral registers can help start the search and for properties from the nineteenth century it should be fairly straightforward to trace inhabitants by using census returns and tithe maps. If a house is older than around 1840, probate records and parish records may turn up fascinating facts about owners and occupiers.
Powys Archives is located in Llandrindod Wells, and serves as the official repository for the records of the county of Powys. If you are interested in family, house or local history documents can be viewed in the service's public search-room. Powys Archives also welcomes volunteers - if you are interested get in touch.
Powys Archives, Unit 29 Ddole Road Enterprise Park, 01597 826088
www.powys.gov.uk/archives.