Interchange Plans a step closer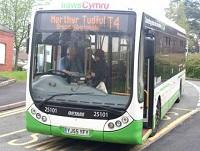 11th April 2018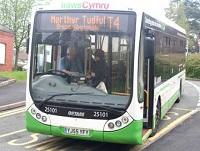 Plans to introduce a dedicated bus interchange in Llandrindod Wells have moved a step closer after Powys County Council purchased a key piece of land.
The council has purchased land on Station Crescent, currently occupied by a local garage, as part of its plans to establish a bus interchange. When developed, the interchange will offer a greatly enhanced and safer designated bus terminus for the regular bus services which visit the town. It will also ease congestion around the town's railway station, where the north and south bound buses currently meet.
The council were successful in attracting funding from the Welsh Government for the land purchase and both the council and Powys Teaching Health Board have worked jointly to transform outcomes for Llandrindod Wells.
Cllr Aled Davies, Cabinet Member for Transport, said: "I'm delighted that we have completed this purchase and we have now moved a step closer to introducing a dedicated bus interchange for Llandrindod Wells.
"Although the project is in its infancy, the interchange will give a huge boost to the town as it will allow people and businesses to travel safely to their destination.
"The collaboration shown in this process between Powys Teaching Health Board and the Council highlights the successes that can be achieved, that the town and visitors will benefit from."
Hayley Thomas, Director of Planning and Performance of Powys Teaching Health Board said: "We are delighted to have been able to work in collaboration with Powys County Council on this project. The scheme will also provide reserved secure PTHB staff parking to Llandrindod Wells War Memorial Hospital easing the pressures on parking at the site and therefore improving access to the hospital for patients and visitors."