Steps to Pistyll Rhaeadr repaired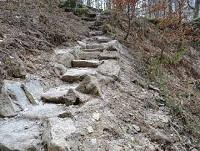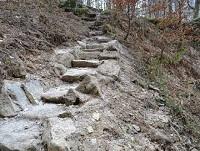 A flight of steps along a footpath to one of Wales' most popular waterfalls have been repaired, Powys County Council has announced.
The council's Countryside Services Team have overseen repair works on an important footpath below the falls at Pistyll Rhaeadr, near Llanrhaeadr-ym-Mochnant. The 240ft waterfalls, which are spectacularly sited on the edge of the Berwyn Mountains near the Powys border with Denbighshire, is one of Wales' most popular visitor sites.
Last year, the footpath had to be closed due to the deteriorating condition of the flight of steps on the path. The steps are one of the main access routes for people going to see the waterfalls, leading down to a footbridge that is a popular viewing platform.
Cllr Aled Davies, Deputy Leader and Cabinet Member for Countryside Services, said: "I'm delighted that walkers visiting Pistyll Rhaeadr will now be able to use this footpath after the steps were repaired.
"This work was not an easy task. The demanding part of the job was the gathering of suitable large replacements stones from the immediate area which required manual handling and transport, sometimes for distances of hundreds of yards.
"As this is a scheduled site, consent for the work was required from Natural Resources Wales and the source of stone needed to be from the local area.
"Contractors had to work on steeply sloping ground and also had to manage the task in an environment where large numbers of people continued to visit the waterfall and surrounding area.
"Work was completed before the end of February and the path and steps were open in time for the busy Easter holiday period.
"The importance of locally available public paths shouldn't be underestimated. Our public rights of way network can play a vital role in maintaining the health and well-being of the people of Powys."
If you would like more information on the work the council's Countryside Services Team does in managing rights of way and public access in the county then email rightsofway@powys.gov.uk or telephone 01597 827500.