Brecon's High Street Superior resurfaced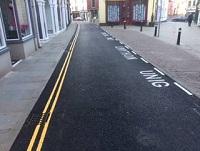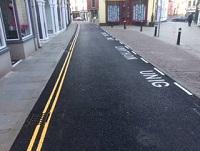 A road in a south Powys town has been resurfaced by Powys County Council.
Brecon's High Street Superior was resurfaced by the council's Highways Service earlier this month (April). As part of the works, paving bricks were removed and replaced with tarmac as they were constantly being damaged by vehicles.
A number of kerbs were also replaced as part of the works after they had been damaged by vehicles illegally parking on the footway.
Now drivers are being advised not to park on the footway and obey the parking restrictions that are in place on High Street Superior.
Cllr Phyl Davies, Cabinet Member for Highways, said: "The kerbs were constantly being damaged as passing cars were being forced onto the footway to pass vehicles that were either parked illegal on footway and in loading bays.
"We have now reinstalled all the parking restriction carriageway markings so drivers will be able to see them clearly. We would urge driver to obey these restrictions so that passing vehicles can pass freely and without being forced onto the footway.
"Any vehicle that parks illegally could receive a penalty charge notice if observed by our civil parking enforcement officers."