Seeds of success for Crickhowell Library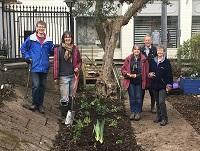 30th April 2018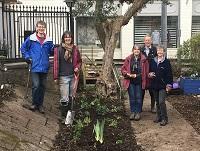 Crickhowell Library is going from strength to strength under the partnership agreement between Crickhowell High School and Powys Library Service with visitor numbers up by 10% in the first 3 months of this year.
The new venture, to secure the library's future has worked due to all parties working together. Along with the Friends of Crickhowell Library, they have been fundraising and organising a range of activities at the library to boost community involvement and interest.
The last Saturday of each month is set aside as a "gardening day", when willing members of the community are invited to turn up and lend a hand in the library garden from 10am - 1pm, planting and weeding where needed. Work to date means there is a mix of colourful bedding plants and an attractive seating area for all to enjoy.
Several cubs from the 1st Crickhowell and Llangattock Scouts also worked towards their Community Impact Staged Activity Badge by lending a hand last week after a short spate of sunshine following by April showers saw weeds sprouting in the library garden.
New signage and furniture has also given the library a new look and a Pupil Library Committee is in place with plans for book reviews and informative displays. High school pupils are also planning to support younger children in this year's summer holidays reading challenge and the library can be hired outside of the normal opening times.
Cllr Rachel Powell, Portfolio holder for libraries said:
"Crickhowell library is really delivering for all its residents thanks to the efforts of the Head of Crickhowell High School, teaching staff, the library staff and the Friends group. An increase in library users is great news for the future prospects of the library. This successful partnership is a tangible example of what can be achieved when we work together with a local school and its community."
Headteacher Jackie Parker said: "We are delighted with the progress so far, and thank the Crickhowell Library staff, High School staff and the Friends of Crickhowell Library for their hard work. The library provides a great opportunity for the pupils and teachers, and it is fitting that we are able to give those opportunities to the community, for everyone's benefit."