Powys schools exhibit at Tate London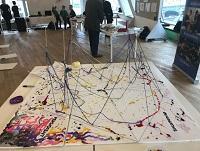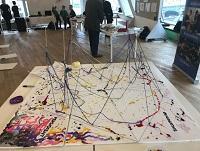 Two Powys schools have recently showcased their work at the Tate Modern Art Gallery, London.
Through the Lead Creative Schools Scheme, Gwernyfed High School and Ysgol Cedewain were selected to present their work between April 24-29 at the Tate's 'Week of Encounters', which explores the use of creativity in teaching and learning.
The scheme aims to promote new ways of working in schools by developing an innovative and unique programme of learning with the help of creative practitioners and resources.
It complements and supports a school's current programme of work whilst also addressing any particular learning challenges. It seeks to nurture the creativity of learners so that they achieve their potential and grow to be well-rounded individuals.
Kayleigh Hughes, Head of Art at Gwernyfed High school said: "Over the past few years our school has been on a creative learning journey. Pupils and teachers have worked alongside creative practitioners to experiment and challenge the way in which we learn.
"We've realised that creativity isn't confined to Art or Music lessons, but can be used as a tool in other subjects such as Science and English. The results of the scheme have been fantastic and we have found it to increase attainment.
"Our sharing day at the Tate gave pupils an unforgettable experience as they captured the learning and shared their experience with others on a large platform."
Lauris Palshis, Co-ordinator at Ysgol Cedewain said: "With the help of pupils, we selected and invited Creative Practitioner, rap poet Martin Daws, to lead a collaborative project which focused on oracy and literacy.
"After a successful exhibition at Oriel Davies Gallery, Newtown, we were one of only 32 schools out of over 500 who participate in scheme, to be invited to present at the Tate."