Giant's Grave byway repaired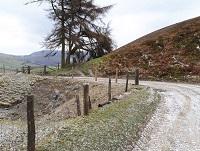 9th May 2018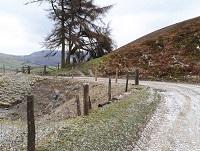 A popular byway in mid Powys has been repaired after part of the supporting bank was starting to collapse, the county council has said.
The Giant's Grave byway, found between Hundred House and Glascwm, was repaired after part of the retaining back supporting the byway was starting to collapse due to water soaking into the ground.
The work, carried out by local contractor RF Price and overseen by the council's Countryside Services Team last year, involved the removal of the old timber retaining structure and replaced with large boulders, grading back the bank and installing a pipe to carry water under the track and away from the area.
The bank was then reseeded, which has bedded in well and coped with the winter weather this year.
Cllr Aled Davies, Deputy Leader and Cabinet Member for Countryside Services, said:
"The works on the Giant's Grave byway have provided a long-term solution to the bank stability at this point and safeguarded an important multi-use link over the hill between Hundred House and Glascwm.
"I'm sure the works that have been carried will be welcomed by all those who travel along this byway on a regular basis.
"The importance of maintaining our rights of way network shouldn't be underestimated. Our public rights of way network can play a vital role in maintaining the health and well-being of the people of Powys."