Urdd achievements acknowledged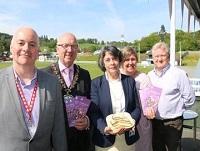 21st May 2018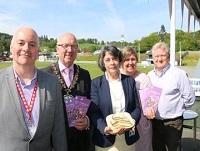 With just days to go before the national Urdd Eisteddfod, the work of everyone involved has been publicly recognised by Powys County Council.
The Eisteddfod is taking place on the Royal Welsh Showground in Llanelwedd from May 28 to June 2. It has generated record levels of interest with 1,200 young people from Brecon & Radnorshire becoming Urdd members - more than double the membership in 2016.
There has also been a record number of competition entries from the schools in the county with 900 entries - almost three times the number of entries received two years ago.
The record-breaking figures, as well as work in local communities to support the Eisteddfod, were publicly acknowledged at an event hosted by Powys County Council this weekend (Sunday 20th May).
The new Chairman of Powys County Council, Cllr David Meredith, said: "We are delighted that the Urdd Eisteddfod - one of Europe's largest youth touring festivals - is coming to Powys. It is fantastic that so many of our young people are participating in this wonderful event.
"We also pay tribute to the efforts of all of the local fundraising groups that have supported the event coming to our county."
Cllr. Myfanwy Alexander, Cabinet Member for Education and Welsh Language, said: 'The reception provided us as a council an opportunity to thank all of those who have worked so hard in the run-up to the Eisteddfod. The fundraising, the awareness-raising and the great increase in participation have been truly remarkable and I want to add my personal thanks on this special occasion."
Looking forward to the Urdd are from left :
Morys Gruffudd, Eisteddfod Organiser;
Cllr David Meredith Chair of Powys County Council;
Cllr Rosemarie Harris, Leader of council;
Cllr Myfanwy Alexander, Cabinet Member;
Steve Mason, Chair of the Eisteddfod local working group.