Machynlleth Cemetery Survey 2017
In November 2017 we sought your views on the future provision of a cemetery for the town. The current Victorian cemetery is nearly at full capacity with two years of burial space left.
We asked for your views on two potential sites: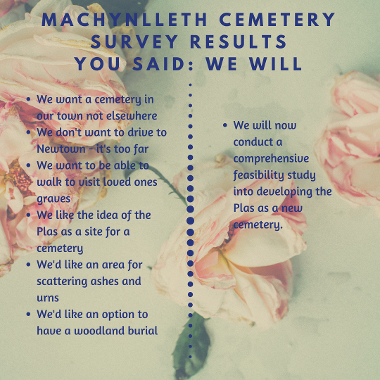 Land behind the Plas
Land at Machynlleth CP School
There was also scope:
To look to build a new cemetery in an outlying area
For residents to use alternative private churchyards for burials
For residents to travel to Newtown for future burials
You said:
We want a cemetery in our town not elsewhere
We don't want to drive to Newtown - it's too far
We want to be able to walk to visit loved ones graves
We like the idea of the Plas as a site for a cemetery
We'd like an area for scattering ashes and urns
We'd like an option to have a woodland burial
We will:
We will now conduct a comprehensive feasibility study into developing the Plas as a new cemetery.
What's our legal role?
Local authorities have a duty under the Local Authorities' Cemeteries Order 1977 to maintain existing cemeteries but not to build new ones.
Contacts
Email: haveyoursay@powys.gov.uk
Address: Consultations, Powys County Hall, Spa Road East, Llandrindod Wells, Powys, LD1 5LG
---