Joining Forces with the community at Community Open Day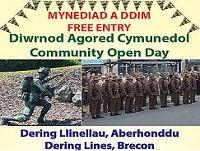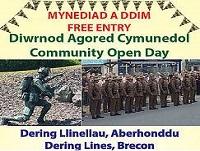 Brecon's Infantry Battle School at Dering Lines, is opening its doors to the public on Sunday, 8th July, between 12 noon and 5.30 pm.
Organised by The Armed Forces Covenant Regional Partnership Powys (AFCFPP) this Community Open Day offers a fun and informative day out for all ages and promises to be a great family day out.
Entry to the event is free and visitors will have the opportunity to try their hands at many organised activities throughout the day, including a weapons simulator, assault course, paintball, jungle lane and pony rides, with many of the activities free. Military vehicles and weaponry will be on display and kit will be available to try on.
There will be activities provided by Dyfed Powys Police, Wales and West Fire Services, art workshops, military and civilian choirs and cultural dance performances on the day.
Powys County Council Leader and Armed Forces Champion, Councillor Rosemarie Harris said: "I hope as many residents as possible can support the community open day. The military has always been an important part of Powys life and I am sure residents will show their appreciation and turn out in numbers."
Commanding Officer of the Infantry Battle School, Lieutenant Colonel Shaun Chandler said: "We are excited at this opportunity to open our gates to the public. Our aim is to make the Community Open Day an exciting day for all the family, but also to make it an educational one. We look forward to welcoming as many people as possible and thank Powys County Council and our partners for helping make this day possible."
This event follows on from two successful Community Days in 2017. This promises to be a popular event, with parking in Brecon itself and shuttle buses provided to and from Dering Lines.
For more information visit www.growinpowys.com.