New community space opens for Hay residents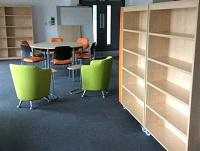 13th June 2018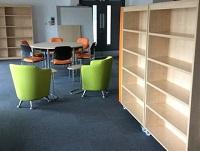 Exciting times are ahead for the 'town of books' with the opening of a brand new flexible community space on 18th June 2018. The space will incorporate the library and open up opportunities for residents and community groups to come together and use a community resource for a multitude of activities.
The modern building is next to the town's new community focused primary school just off the town's main car park and has its own separate kitchenette, disabled toilets and entrance making it entirely independent of the school, ensuring the safety of children at all times. Accessibility for residents and visitors will be greatly improved, with the main car park and bus stops on the doorstep.
The flexible community space can be hired out and is quickly and easily rearranged for meetings and other activities that can operate outside of the main opening hours.
Councillor Rachel Powell, Portfolio Holder for young people, culture and leisure said:
"Providing a modern community resource like this in Hay will create all manner of opportunities for voluntary and resident groups. It will also allow our partner agencies to work alongside us and provide new and exciting activities for people to enjoy, all within one building.
We are pleased to announce that the after school club has already secured space every Monday - Thursday until 4.30pm to provide pupils with a range of fun activities after their school day has finished. This provision will support a number of working parents in the community."
"Alongside this there is scope for evening classes on IT, yoga, cookery or knit and natter groups to hire the space and for groups to put on a range of well-being activities. I'm delighted to announce that the space is opening shortly and will house the current library service alongside offering a resource that I'm sure the community will put to good use."
The old library base will close its doors to the public at 7pm on Monday 11th June and re-open as a part of this brand new facility a week later on Monday 18 June with a great range of books, computers, Wi-Fi and a place where residents can seek advice on a range of other council services. Families too will be able to access the facilities at their convenience, knowing their children are on the same site in the adjoining school.
"We are really looking forward to having this space and the library move next door," said head teacher, Alexine Bartholomew. "We have always taken the children down to the library and encouraged them to borrow books to read at home, but now we'll be able to visit the library more easily, and the children will be able to take their families along too, and enjoy sharing books together."
Initially, the community space where literacy of all descriptions can be accessed will be open for 12 hours each week (Mondays 9am - 12 noon, 1pm - 3pm, Thursdays 9am - 12noon, 1pm - 3pm, and Saturdays 10.00am - 12.30pm). The flexible space can be booked via the school, whereby providing other opportunities for the community.