Powys schools go cashless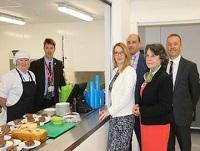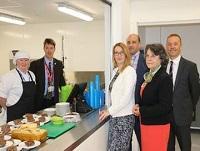 Powys has become the first county in Wales to have all schools operating a cashless payment system for school meals and other items.
Powys County Council has introduced electronic payments to offer a convenient method for parents and carers for a range of activities including meals, trips and activities.
Cabinet Secretary for Education, Kirsty Williams today joined the council at the newly opened Clyro Church in Wales primary to mark the final county school signing-up to the cashless initiative.
Cllr Aled Davies, Powys County Council's Cabinet Member for Business Services, said: "We are delighted to complete this project as it's a system which benefits all. It makes payment easier and parents/carers will also have the ability if required to see what their children are eating in school. It also reduces the risks and costs of cash handling and transactions.
"The changes would not be possible without the support of the schools, staff, parents and pupils so we would like to thank them all for their co-operation."
Education Secretary, Kirsty Williams said: "I'm very pleased to see that Powys Council is taking up this new system.
"There are many benefits to schools using cashless payment systems. As well as protecting the identity of learners who receive free school meals - something that schools are required to do - these systems also speed up the time at the till and make it much easier for payments to be made for a variety of activities."
Under the new system, money can be pre-loaded and 'topped-up' on an online account. The change has been welcomed with positive feedback from parents, pupils and staff. The take-up of free school meals in the secondary schools has increased. Queuing time for pupils at the canteen tills has also reduced.