Safe routes paths officially opened in Presteigne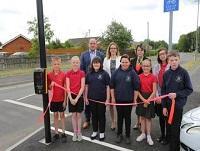 15th June 2018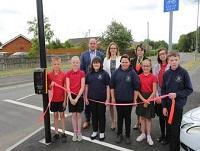 New active travel facilities in a mid-Powys town have officially been opened by a prominent Welsh Government Minister, the county council has announced.
Cabinet Secretary for Education, Kirsty Williams AM, was in Presteigne today (Friday, June 15) and officially opened the town's Safe Routes in Communities scheme.
Powys County Council's Active Travel Team improved the paths in Presteigne as part of a Safe Routes in Communities scheme, which has been funded by the Welsh Government.
The scheme aims is to improve active travel facilities in the town so that more residents are encouraged to travel short journeys by walking or cycling rather than by vehicle.
The improvements are proving to be a great success since the works were completed in March, with a noticeable increase in the number of residents and pupils making use of the new and improved paths.
Education Secretary Kirsty Williams said:
"I am happy to open the active travel scheme which has connected the community of Presteigne and is already proving to be popular. I'm proud that the Welsh Government's funding will make it easier for young people to choose healthier and more sustainable methods of travelling to school."
Transport Secretary Ken Skates said: "Schemes such as this are a big step in the right direction to realise our ambitions of active travel. The holistic approach to community involvement that Powys adopted for this scheme has really helped create a network of walking and cycling routes throughout the town that has the support of the community. We want to encourage young people to form healthy habits for life, and their journey to school is definitely a good place to start.
"These improved paths will also provide a safer environment for people to cycle, supporting the culture shift from cars usage for short trips. This will not only increase physical activity but will improve air quality and ease the levels of congestion in our built-up areas."
Cllr Phyl Davies, Cabinet Member for Highways, said:
"I'm delighted that the Cabinet Secretary for Education has officially opened this important safe routes scheme. It has provided Presteigne with one of the leading active travel facilities in Wales.
"The active travel scheme in Presteigne was designed to encourage people to walk or cycle short journeys rather than drive. This will help improve the health and well-being of local people, reduce congestion and improve the environment.
"It's great to see that a number of residents and pupils are using the improved paths and I hope others will also embrace it and choose to make short journeys within the town by walking or cycling."